Tremendous Garden Patio Examples
Isn't it wonderful to come home after a long day, pour a cold glass of iced tea or sangria, and just relax in your back garden on the patio?  It is your sacred space, an idyllic atmosphere designed for your enjoyment.
I've been fortunate to interview some of the best garden designers on the podcast, and they all agree on one thing: building your perfect patio is as much an exercise in what you don't want as much as what you do want.  Have you thought about leaving out certain elements from your garden?  What can you cut, eliminate or remove that doesn't bring you joy and contentment?
Creating your perfect patio in your back garden is much more difficult than designing a 2-acre meadow garden because of the intimacy and intensity required.  It is about the joy, inspiration and tranquility concentrated into the space allotted for you and your family.  Small backyard patio designs can be created for a budget, space limitations, and plans for any home.
What is important for you?  Here are some examples for you from a variety of climates, budgets, textures, components and tastes.  I hope you will find some inspiration to help you take your backyard patio to new heights of pleasure.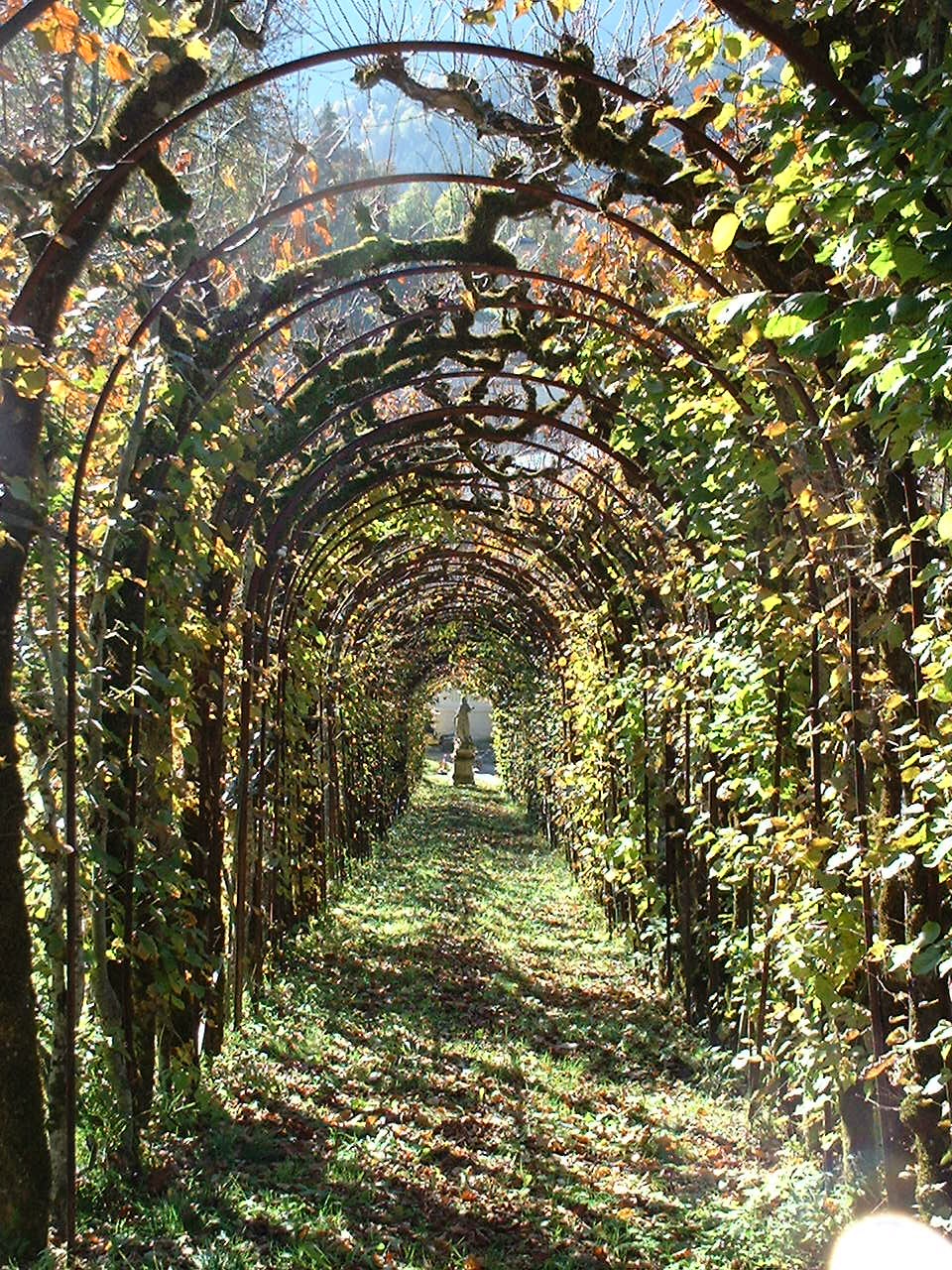 If you have the space, you can use natural materials to create zones and movement.  This walkway has mature greenery that has formed a beautiful shaded arch.  They've left the pathway natural without flagstone or gravel.  The width is enough to run a lawnmower twice a season or as needed.  Note the visual focal point at the very end of the path.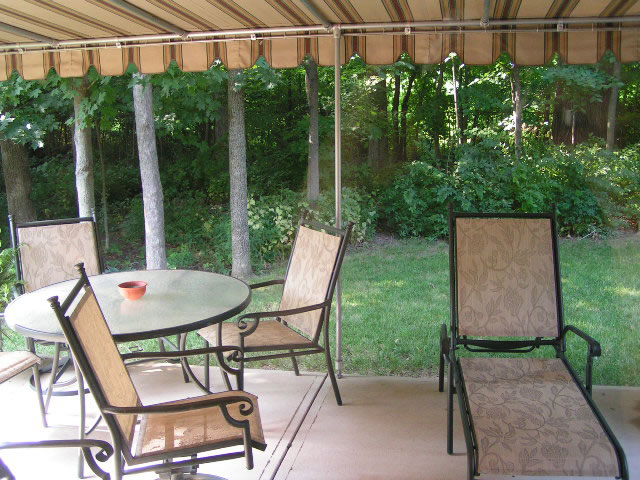 This is a very familiar patio if you live in parts of Canada or the American northeast.  The concrete patio has seams to handle the winter stress and rainwater.  The awning is on a metal gazebo frame.  The cover can be removed in extreme weather and to store for the winter.  The patio furniture is faux wrought-iron aluminum with a round table with frosted shatterproof glass.  Is that a citronella candle on the table to keep away mosquitos?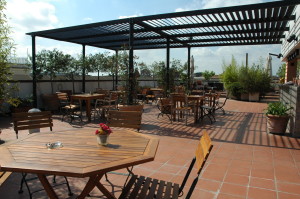 This commercial space has both a full-sun area as well as the partly-shaded, dappled-sun area under the pergola.  The octagon table is hardwood.  What do you think of the clay tile patio?  The large container garden on the ground to the right needs some color and company.  The trees to the left are individually planted in large terra-cotta containers.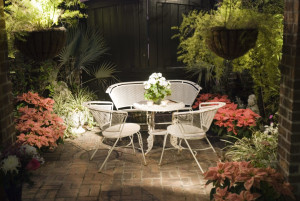 Isn't this a sweet space?  Where does your eye go first?  The twin hanging baskets, the pink flower containers, the classic brick, it all pulls together.  The white patio set evokes a mental image of a private encounter in Paris or Milan.  I see a statue peeking out of the foliage to the right of the wooden gates at the back.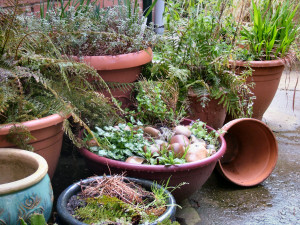 In the gardening world few things are more popular than containers.  I know kids growing tomatoes in old milk crates.  Designing a patio to incorporate your containers takes a keen eye.  In the bottom left of the photo is an outlier, perhaps painted ceramic?  When buying containers for the garden, consider price, color, size, and shape.  Are the bottoms drilled?  If one breaks, can it be replaced or swapped out conveniently?  Just a note of caution, growing beautiful container gardens is contagious, one is never enough.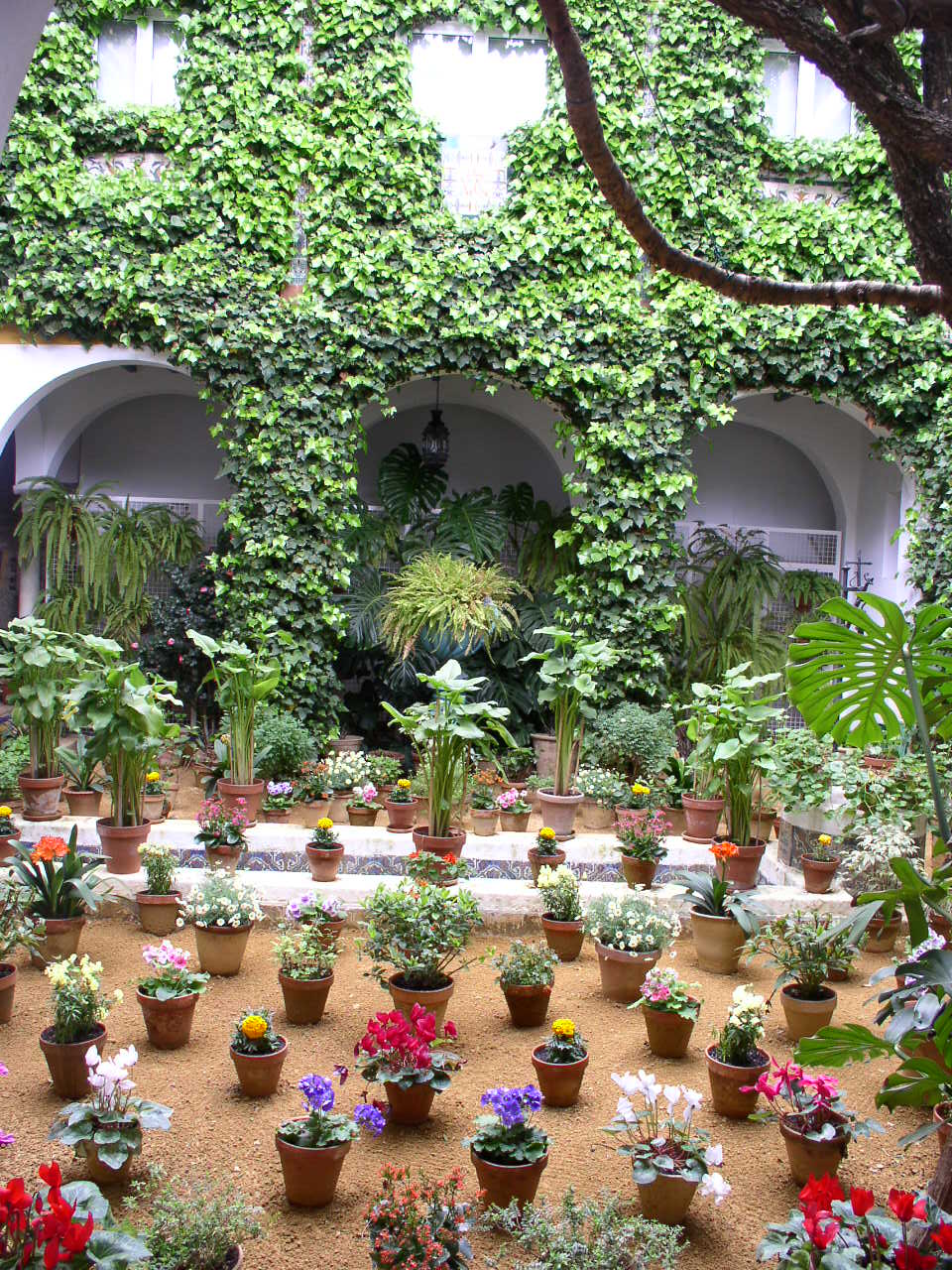 See, what did I tell you?  The picture is a  little fuzzy, but you get the idea … it's a symphony of flowers and small shrubs in a massive container garden.  They multiply like rabbits.  They will take over your patio if you let them.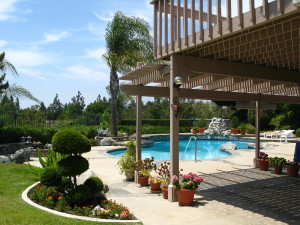 Isn't this a gorgeous backyard garden patio?  The raised wooden deck sits overlooking the pool with a pergola extended over the poolside pavement.  The concrete-edged flower bed is a pleasing arc, complete with colorful annuals and some manicured small trees.  What do you think of the flower containers along the shaded edges of the deck?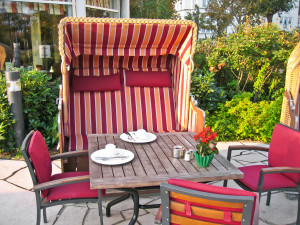 Colorful and eclectic, don't you think?  It's an old beach chair for two complete with sun canopy and fabric walls.  You don't have to  blow a huge budget building some over-the-top patio if your tastes are whimsical.  You can find used patio furniture online just about everywhere.  The table looks pretty sturdy with the hardwood top and iron feet.  Is that flagstone they laid to build their patio?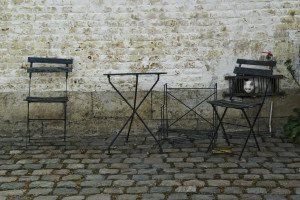 What if your garden is simply a laneway or back alley in a big city?  There's always a way to create an intimate space for you to enjoy.  Doesn't this image scream "Old Europe"?  The mossy cobblestone patio, the faded whitewashed brick, the exhausted wrought-iron metal chairs and table, ain't it great?  I could sit out there, listen to the clouds and drink a cappuccino.  And maybe some bread and cheese.  It screams "slow down".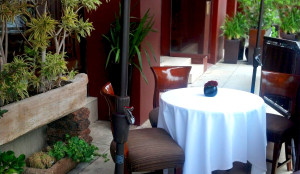 If you're searching for inspiration for your patio, you might want to check out some commercial spaces like at a hotel or upscale restaurant.  Sure, they may have a bigger budget, but they also have designers and variety.  Check out the aged-timber planter on the left. They created a second tier, and privacy with the tall plants.  Go out and eat a few meals at some nice places and see what idea catch your eye that you could borrow for your patio.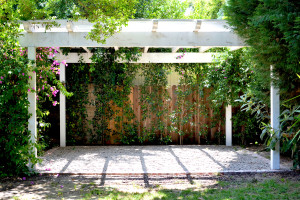 What could you do with this space?  The white pergola combined with the ivy and foliage is almost like your own personal arboretum.  It needs  a little more color, right?  You could add some container pots with annuals, or a little flower bed to the left and right of the pillars.  Let your mind wander with all the options for furniture.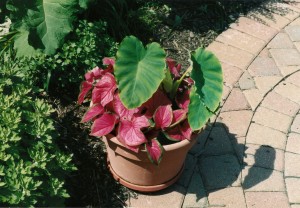 The interlocking brick is nice.  Look how they cut the stone to make the curve just to the right of the terra-cotta pot.  The border between the mulched bed and the stone patio is a perfect zone for a couple of colorful container pots.  The red and green leaves on the plants are gorgeous.  I bet they have to water a lot because of the direct sunlight and knowing how quickly they dry out.  Would you ever try interlocking brick in a walkway or patio in your garden?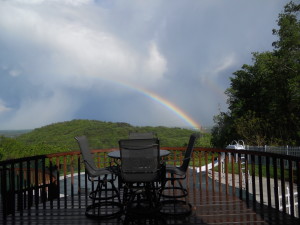 Some backyard spaces are designed to provide privacy.  Others, to accentuate the view.  This example of a simple wooden railing around the furniture gives such an incredible vista of the green hill and blue sky.  It overlooks the pool, slide and concrete pool deck.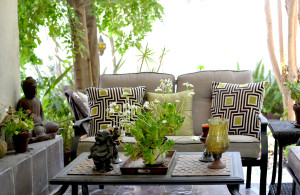 This contemporary patio furniture looks fantastic.  It feels like a living room without walls.  What catches your eye first?  For me it's the pillows.  The black square lines and the yellow squares pull your attention, then you see the statues, plants, and then you gaze out over the distant view.  Could you curl up with a magazine and a green tea and grab a quick nap out here?

You can find great ideas in the outdoor spaces of resorts and hotels.  This pergola gives amazing shade because of the tremendous growth of the top side foliage.  The cream colored pillows on the hardwood patio chairs compliment the white pillars.  It's interesting how they have created multiple private spaces by arranging the furniture near the uprights.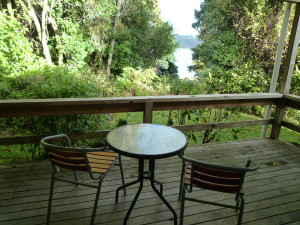 Ah, the classic cottage backyard!  Wood railing,  deck, and forest.  The chairs look a little firm, don't they?  It's an excellent example of quiet, undeveloped and back to nature as you can get.  A place to listen to the birds, crickets and sunset with your partner and a couple of favorite beverages.  Want to bet you put your feet up on the railing and take a deep breath of that glorious lakefront air?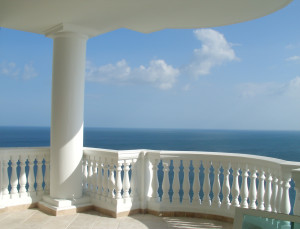 And finally …. just a breathtaking vista.  If this was the view from your backyard patio, what furniture would you put out there?  Would you have a big grill?  A hot tub?  A relaxing hammock to read in?  To sleep … perchance to dream.