I couldn't believe my eyes.
There.  
On the carpeted floor next to the Coke machine.
It was a hundred dollar bill.  Some poor soul had dropped it.
It was my lucky day!

I quickly glanced to my left and to my right.  Nope.  Nobody lurking near me.  It was mine, all mine!  Could you believe how fast I snatched it up?
The year was 1991.  I was stranded in New Orleans, Louisiana.  What had started off as a fun road trip had turned into a debacle.  But that's a story for another day.
Maybe my luck had changed?
The old Ben Franklin was folded in half.  Before I stuck it in the front pocket of my size 28 jeans I turned it over in my fingers and unfolded it.
My jaw hit the floor.  There was a secret message hidden inside!
---
I BUY HOUSES.
I TEACH PEOPLE TO MAKE MONEY IN REAL ESTATE.
WANT TO LEARN?
Jeb 555-1212
---
Oh crap.  My heart skipped a beat when I realized it wasn't money.  What the heck?
I was 23 and broke.  I really could have used that money.  I jammed it into my pocket and tried to figure out how I was going to escape Louisiana alive.  But that's a story for another day.
Listen.  If you've never tried local marketing for garden design customers using "drop cards" then you just don't know how easy and fun it can be.
I ended up calling old Jeb when I got back to Canada.  In fact I kept that $100 drop card for the next 12 years.  I showed it to dozens and dozens of associates.  I ended up buying thousands and thousands of those $100 bill business cards for my teams in the decade to follow.
So how can you generate more local business using drop cards?
They instantly make you stand out at all social functions.  Ever been to mixer at the local Chamber of Commerce?  Or a meetup.com group event?  Or gone to lunch with an old friend to catch up and they ask you," so what you do now?"
I generally use 2 types of money drop cards.
The first is my standard business card.   Take the boring old white card and put the artwork inside the bill.  When you meet people you now have a reason to give them more than 1!
"Here, I'm giving away money, take 3 or 4 more and give them to your friends!"
They will laugh.  They will study them.  You become memorable.  
The next time a friend of theirs starts talking about landscaping, you and your $100 business card will pop into their brain.  You become their guy.  "You should talk to my guy!  She's amazing!"
The second variation is the lead-generating drop card designed specifically to get you prospects for your garden design business.
This is a pure numbers game.  It's based on novelty, luck and mathematics.  If you get creative about putting out 15-20 cards per day consistently, you will see results.
The advertisement inside should get right to the point.  It will attract the right people, and repel the wrong people.  (like a broke 23 year old stranded in the French Quarter of New Orleans.)
Here's an example:
---
MAKE YOUR HOUSE LOOK LIKE A MILLION $!
Your home is your biggest investment.  Talk to a pro to discover 4 simple ways to increase the resale value of your property.  Free report reveals details.
www.Your Cool Landing Page .com
---
Notice what it doesn't say.  No mention of koi ponds, solar lighting, pathways or perennials.  Those things are all solutions.  This card focuses on the problem.
Remember, people buy what they want, not what they need.  They might need a new cedar hedge, but they want to increase their property value.
So what do you put on the cool landing page?
Ah, there's the million dollar question.  If you haven't read my post about how to turn your website into a client getting machine, make sure you read it.  Then take the $1 trial to get your own follow-up machine to turn prospects into paying customers.
Even the most basic website will work.  It will work for you 24 hours a day.  It will never get tired, complain or take a sick day when it's hungover.
It will sort, sell and select for you.  By the time you speak to the cold suspect they have become a hot prospect, ready to talk budgets and bougainvilleas.
So what's the next action step to actually get new customers?
You can do this.
You can have a couple of inquiries per day within 21 days from now.
What would happen if your friends started sending you loads of business just by sharing your garden design drop cards with a few of their friends?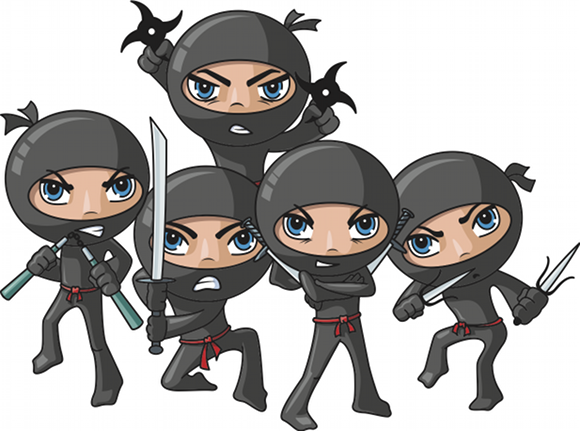 What would happen if your new army of ninjas that you created using the "Unpaid Intern System" each got your 1-2 new leads per month?  Or per day? (you have your own army of ninjas, right?)
The most prosperous garden designers spend a few minutes every single day on generating new business.  The more low-cost local lead generating systems you possess, the faster you can get new clients.
Look.  I have been evangelizing this method since I escaped from New Orleans 24 years ago.  If I hadn't looked down at the base of a Coke machine in a hallway I never would have shared this with you.
Life sure is mysterious, isn't it?
Let me know how much fun you have with this.  Drop me a note or hit me up on Facebook after you get your first hot prospect!