This gorgeous garden cart will make your gardening friends insanely jealous!  Who do you know that would also want one?  When it comes to heavy-duty workhorses, this Gorilla Cart is the Cadillac of towing, lugging, hauling and moving in your garden.  What do you need help with that needs to move?  Mulch, soil, gravel, logs, compost, firewood, tools, or barrels of water?  Can this cart really carry and dump nearly everything?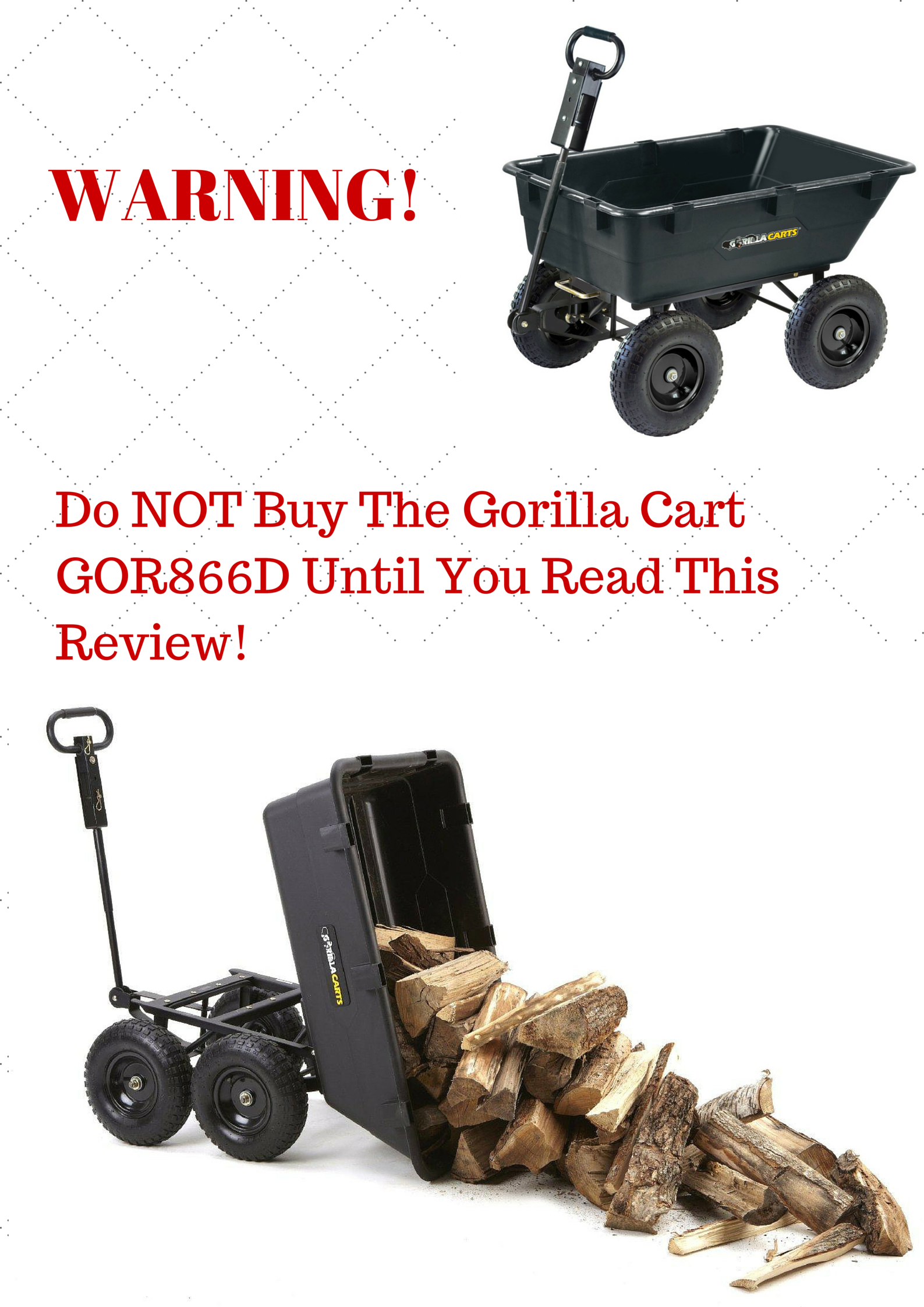 Is It Easier On The Back Than A Wheelbarrow?
One of the most popular features of the cart is its balance and dumping features.  A standard wheelbarrow engages the human to pick up the load, balance the load during the entire trip, and generate most of the initial force for dumping.  The Gorilla Cart has axles which eliminate the need to play a tricky balancing act.  And when it comes to giving your back and hamstrings a break, the quick release dump feature is invaluable.  The unique, swivel handle and dumping features are clearly explained in the Owner's Manual.   I recommend visiting Amazon and looking at the forum for real-time input from owners.  Click this link below to learn even more:
Will The Tires Go Flat on the Gorilla Cart GOR866D?
Well, the honest short answer is yes, possibly.  The cart ships with real tires, inflated with a proper tube.  So if you haul across broken glass and nails, it's possible that the things might get a little soft.  You can get replacement tires extremely quickly, and there is even an option for solid no-flats if you so choose.  But remember the tires are rugged, and designed to haul over a 1000 pounds per load.  The 13 inch tires are pneumatic with a 5/8 inch axle.
Can You Pull The Cart Behind A Tractor or ATV?
The Gorilla Cart is designed with a unique 2-in-1 handle that converts into a D-shaped tow hitch.  The swivel handle can be towed behind your Kubota tractor or ATV, or even a golf cart if it has a ball hitch.  This makes the cart extremely versatile if you have a larger property, or need to pull water for livestock, or want to bring in firewood.  An excellent way for smaller operators or for those with a physical limitation.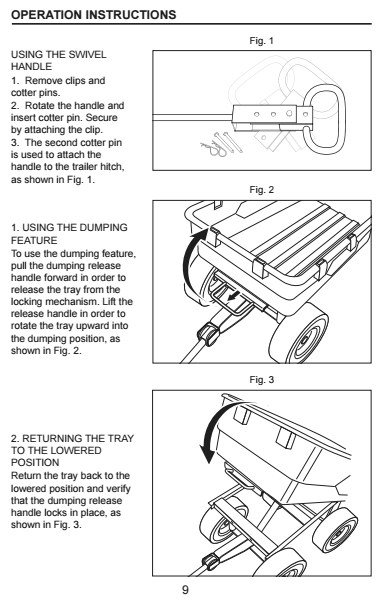 Can I Add Height To The Box With Side Stakes?
Yes!  The rust-proof poly bed is specially designed with you in mind.  It's pre-drilled and comes with instructions in the manual on how to build up side stakes.  One purchaser did that with the goal of pulling his aging dog around the farm safely.
Is It Difficult To Assemble?
The detailed and illustrated manual estimates the average person can assemble the garden cart in about 30 minutes with simple tools.  You'll need a Phillips screwdriver and either a metric socket set or 2 adjustable wrenches.  All of the parts come in the box from the manufacturer.  If you lose any parts, they have a detailed replacement part program.  I suggest downloading the Gorilla Carts Owner's Manual here and take a quick peek at it.
What Are The Size And Dimensions of the Gorilla GOR866D Cart?
The Gorilla GOR866D weighs 58.6 pounds.  It stands 25 inches tall.  When it ships to you  it weighs 68 pounds and the box is 45.2″ x 25.6″ x 25.2″.  You might want to consider shipping it direct to your door if possible.  Amazon often has amazing shipping deals and it's always worth checking to see if you qualify for a shipping discount or free shipping.
The heavy-duty poly bed on the cart measures 40″ x 25″ and is 10.75″ deep.  It can haul up to 1200 pounds per load.
What Makes This Heavy-Duty Garden Cart So Awesome?
This cart is rugged!  The steel frame is powder-coated to prevent rust.  The poly constructed bed is incredibly tough.  You can haul firewood, scrap, shingles and your garden tools without hurting it.  The pneumatic tires balance even the bulkiest of loads.  This cart is perfect for smaller operators because the easy dump feature doesn't require the muscle strength that a wheelbarrow does.  The unique swivel D-handle enables you to pull the cart behind a trailer hitch without improvising some attachment or buying expensive converters.  Plus the cart looks amazing!  This is one of those splurges that you can justify because it's probably the last garden cart you'll have to ever buy.

What Are The Best Features Of This Cart?
This cart has a "Cadillac" feel to it, and looks the part.  You will feel as though you've treated yourself when you buy this.  The assembly is pretty straight forward, and it holds up well to rough treatment.  It's stable, even when fully loaded.  The big knobby tires, special towing handle, and easy dump feature make this a winner.  On Amazon it has a 95% approval rating, which is pretty special when it comes to garden equipment.
Here is an Assembly Video straight from Gorilla Carts so you can see the what's involved.
What Are The Criticisms Of The Gorilla Cart GOR866D?
About 4% of the reviews are negative.  I combed through them looking for common complaints.  A couple of people complained that the smell of the tires when it came out of the box was too strong to store the cart indoors.  There was a complaint that the print on the Owner's Manual was too small.  I noticed that 2 reviewers mentioned that the ball bearing seal on the tires would break when they hauled a full load of firewood behind their tractor across an uneven pasture.  The most common complaint about the cart was getting a flat tire.  About 2% of reviewers either got a flat or received a flat tire from the factory.  The manufacturer Tricam has a 1 year warranty on the cart, and a liberal return policy on tires.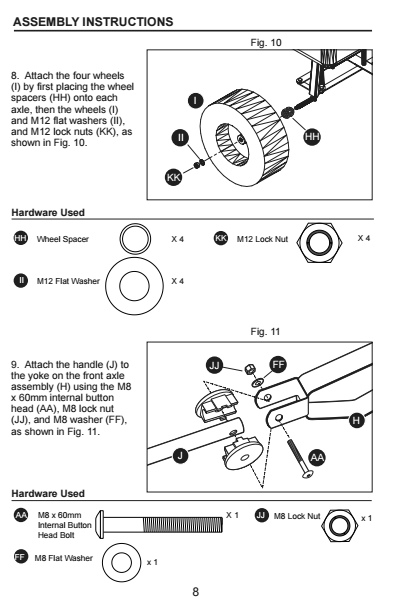 What Can I Do If I Break A Piece or Need A Replacement Part?
Tricam has a dedicated Customer Service Department available Monday to Friday from 10am EST to 5pm EST.  You can give them a call at 1-800-867-6763.  They have a replacement parts ordering section on their website if you need an axle assembly, a lock assembly, parts for the 2-in-1 handle, and assorted hardware kits.

What Are Customers Saying In Reviews About the Gorilla Cart?
This is the #1 best-selling garden cart on Amazon.  After more than 550 reviews, it has a 4.5 star rating out of 5.  Nearly 72% of reviewers give the cart 5 stars!  Less than 4% of reviewers give the cart 2 stars or less, and the complaints range from a flat tire to a weird smell.  The buyer community is strong and supportive, with more than 3 dozen questions about the cart being answered by happy customers on the Amazon support forum.
What About Price And Shipping?
The list price on the Gorilla Carts GOR866D is $159.99.  Amazon has specials and discounts frequently, and you may qualify for a discount on shipping.
To check the current price of the Gorilla Carts GOR866D Click Here –->