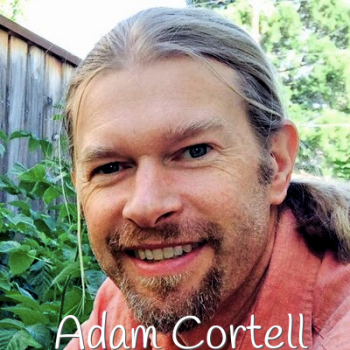 Adam Cortell is entering his second decade gardening his favorite half acre.  He is passionate about suburban homesteading and using his own two hands to create new things.  He blogs about eclectic topics like how to build a morning glory trellis and homemade chicken waterers.  But it wasn't always easy for Adam.  His early days were discouraging and bordering on horrific.  The infestation story in this episode will send shivers down your spine.  CAUTION: leave the lights on when you listen to this interview!
In This Episode You Will Discover:
the HORROR of war … Adam vs. nature
what to do when you have too many cucumbers — how to make new friends
tips to plant a pollinator garden to attract beneficial bees and butterflies
why new gardeners NEED to try raised garden beds
Sponsors
Resources Mentioned
Gardening Know How – http://GardeningKnowHow.com
Monterey Sluggo Snail & Slug Control For Organic Gardening – 2.5 lb Shaker Jug LG6500

This is the book Adam mentioned on the show! 

Our Guest's Links
Follow Adam Cortell on Twitter:  http://twitter.com/adamcortell
Visit Adam's brilliant gardening blog: http://www.AdamCortell.com
Watch the Podcast Interview Here:
Transcript:
Coming Soon!
Listen to Adam tell us some great gardening stories & tips Here:
Podcast: Play in new window | Download | Embed