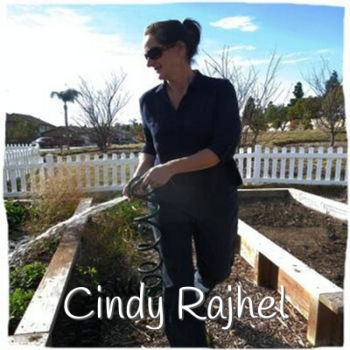 Cindy Rajhel is the author of "50 Homemade Fertilizers & Soil Amendments".  She calls Texas home.  An avid gardener, Cindy loves to share her ideas on her fabulous gardening blog, and on her instructional Youtube channel.  She produces fantastic teaching tips for school age kids to help them discover the joys of gardening.


In This Episode You Will Discover:
blueberries and pink Lady Slippers in the early gardening days
foraging for Fiddleheads – have you tried them?
cursing the cabbage worms – is it possible to win?
recipe for watermelon rind pickles
how to build raised garden beds for $140
why THIS is the #1 secret to gardening success
tips on starting your own garden club and school garden
Sponsors
Discover How To Earn Your First $500 (or your next) As A Garden Blogger!  Simple 5 Step System Reveals How To Create Your Own Second Income Doing What You Love Part-Time.  Download instantly for free the Garden Blogger Blueprint Mindmap & Cheat Sheet at http://backtomygarden.com/SECRET
What's the hottest trend in gardening?  Can you really grow a massive garden powered by FISH?  Discover the secrets to AQUAPONICS!  http://backtomygarden.com/FISH
How healthy are you really? Take the test at http://NutritionWeCanTrust.com
Resources Mentioned
Mobot – http://mobot.org
Gardenweb Forums – http://forums.gardenweb.com/forums/
This is the book Cindy mentioned on the show! 

Our Guest's Links
Follow Cindy Rajhel on Twitter – http://twitter.com/HomeGrownFun
Visit Cindy's gorgeous gardening blog:  http://HomeGrownFun.com
Watch the Podcast Interview Here:
Transcript:
Coming Soon!
Listen to Cindy tell us about soil and gardening Here:
Podcast: Play in new window | Download | Embed