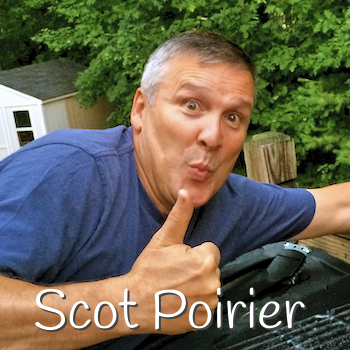 Scot Poirier  is excited about gardening!  His passion for growing and digging started with a single humble tomato 26 years ago.  With the possible exception of eggplants, Scot loves growing vegetables of all shapes sizes and descriptions.  He's a brilliant blogger, a great gardening book author and loves sharing his gardening wisdom.  His personal garden brings him joy in New Hampshire.


In This Episode You Will Discover:
the magic of "Greenhouse Day" in high school
why failure and frustration is your friend your first year in gardening
Scot's nemesis: the squash bug
the perfect vegetable to grow for the patient gardener
98 tomato plants and counting!
the Scorpion Pepper nearly blew his face off
Sponsor
Discover How To Earn Your First $500 (or your next) As A Garden Blogger!  Simple 5 Step System Reveals How To Create Your Own Second Income Doing What You Love Part-Time.  Download instantly for free the Garden Blogger Blueprint Mindmap & Cheat Sheet at http://backtomygarden.com/SECRET
What's the hottest trend in gardening?  Can you really grow a massive garden powered by FISH?  Discover the secrets to AQUAPONICS!  http://backtomygarden.com/FISH
Resources Mentioned
Dried Trinidad Scorpion Chili Pepper Pods – Hard to Find Limited Edition of the Hottest Pepper in the World 1,400,000 SHU (7.9gr-1/4oz) Super Hot and High Quality T Scorpion Pepper with an Amazing Test

This is the book Scot mentioned on the show! 

Our Guest's Links
Follow Scot Poirier on Twitter – http://twitter.com/GottaGrowIt
Visit Scot's sensational gardening blog: http://GottaGrowIt.com

Attention Garden Lovers
.. Do you want to save time, save money and have your most amazing garden ever?  Receive free tips, strategies and gardening techniques from brilliant gardeners around the world.  Join the VIP Club today for FREE click here
Listen Here:
Podcast: Play in new window | Download | Embed