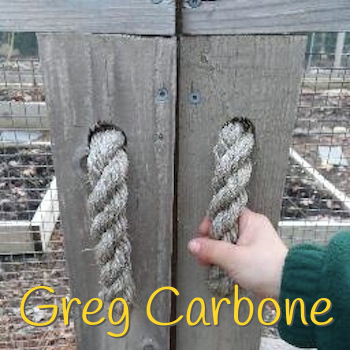 Greg Carbone has reasons to be excited.  He is a self-described "backyard farmer" and author of The DIY Backyard Farm Edible Garden Planning Guide.  Greg's gardening blog is brilliant, and excellent for helping children to learn about the benefits of eating healthy, fresh foods.  Greg and his team of scientific advisors are a real family, growing real  food in a real garden on their home property in New Jersey.  His garden is a big mix of raised garden beds, containers and row gardens.  Greg lives by the philosophy of "plan your garden and garden your plan".
In This Episode You Will Discover:
how Greg plans his own wonderful plot of soil for maximum yields
why the concept of "EDIBLE" is a growing trend
guess what Greg does with Black Krim, Cherokee Purple, rosemary, oregano, basil, cilantro, and parsley?
Greg and his family vs Attack Of The Chipmunks
how to grow and preserve heirloom seeds
what is a "Cat's Cradle", Gagutz,  and "Silver Queen"?
golden raspberries – the new oil!
Sponsors:
Resources Mentioned:
Seed Savers Exchange – http://www.seedsavers.org/
This is the book Greg mentioned on the show! 

Our Guest's Links
Follow Greg Carbone on Twitter – http://twitter.com/diyediblegarden
Connect with Greg through his garden blog:  http://www.DIYBackyardFarm.com
Greg's Book on Amazon:The DIY Backyard Farm Edible Garden Planning Guide: The Simple, "Do-It-Yourself" Guide to Help You Grow Healthy, Delicious Produce

Watch the Podcast Interview Here:
Transcript:
Coming Soon!
Listen To Greg tell us about backyard farming Here:
Podcast: Play in new window | Download | Embed