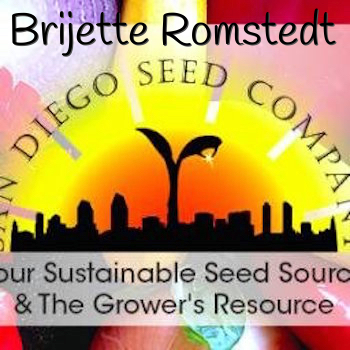 Brijette Romstedt is the owner of San Diego Seed Company, the only urban producer of organic, heirloom seeds in all of California.  Her seeds are hand-harvested, and hand-packaged in San Diego, and sold online and through many local nurseries.  Brijette works with numerous charities and educational forums to teach the importance and value of seed saving.    SanDiegoSeedCompany.com
In This Episode You'll Discover …
California Heirloom Seeds
Growing practical food to help local communities
"cool season" gardening in San Diego
Converting lawns to native plants or edible gardens
Can you use molasses as a fertilizer? Oh No!
Sponsors:
Resources & Books:
Gardening When it Counts by Steve Soloman
Watch the Podcast Interview Here:
Transcript:
Coming Soon!
Listen to Brijette tell us about organic heirloom seeds Here:
Podcast: Play in new window | Download | Embed