I Loved It!
Usability

Affordability

Quality
Summary
Simply my favorite pressure canner! My family loves my meals.
What Are The Best Pressure Cooker/Canners?
Food costs are rising … just look at the price of fresh produce and meat at the store.
Preparing your own meals is a delicious, nutritious way to provide food for your family.
Some people have found a way to cook amazing meals at home in record time and to create their own preserves, without chemicals, artificial ingredients or dangerous additives.
Most people that learn about pressure cooking and canning want more information … but some of them don't.  You know the type.  They love to eat boxed reheated garbage out of the microwave, frequent drive-through fast food dives, and constantly complain about their waistline and their wallet instead of taking care of themselves and their loved ones.

I've studied the hundreds of appliances on the market, and broken down for you our picks for Top 3 Pressure Cookers/Canners.
The Top 3 Pressure Cooker/Canners Compared:
| | | | |
| --- | --- | --- | --- |
| Product Name: | Presto 01781 | Fagor Futuro | All American 921 |
| Amazon Rating | 83% 5 star | 75% 5 star | 91% 5 star |
| Capacity | 23 quarts | 10 quarts | 21.5 quarts |
| Construction | aluminum | stainless steel | aluminum |
| Origin | China | Spain | USA |
| Customer Reviews | 1824 | 127 | 1125 |
| Size | 15.5' high, 10 lbs weight | 11" high, 10.6 lbs weight | 16' high, 20 lb. weight |
| Current Price: | Click here for price | Click here for current price | Click here for price |
| | | | |
Presto 01781 23-Quart Pressure Cooker/Canner Review
I've interviewed Master Food Preservers on my podcast.  The one thing they all agree on is if you want to start a fight, tell a passionate canner that your pressure canner is better than theirs!  It's smart to do homework, read reviews, and to study what other cooks are using.  One of the reasons that the Presto is in our top 3 is based on how happy the actual owners are.  The extremely high 5-star rating on Amazon and the 1800+ reviews speak for themselves.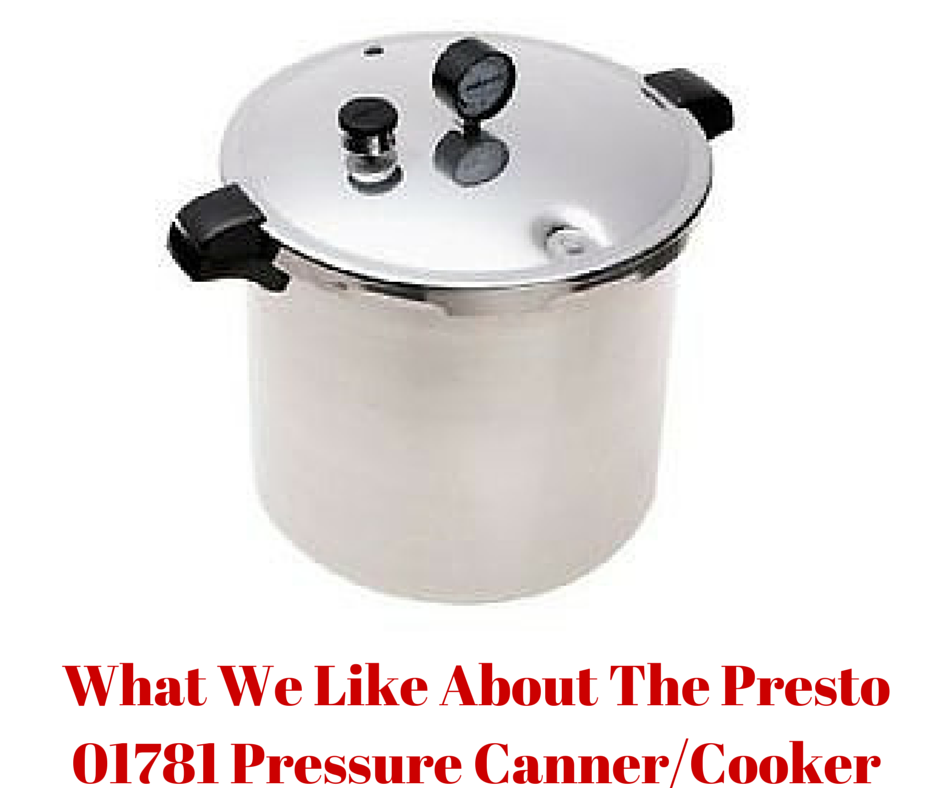 What Type Of Stoves Can It Be Used On?
The Presto got some criticism that it can't be used on a flat glass cook top … BUT … wait, there's more to the story.  Nearly a dozen reviewers said they have used it for a couple of seasons on their glass top without scratching or breaking.  Several mentioned that this policy was a CYA (cover your ass) because Presto didn't want liability in case of problems.  It works fine on traditional coils and on gas.  The induction stoves are to be avoided as well.
How Does It Seal?
It uses a rubber gasket, which must be replaced periodically.  Several canners mentioned replacing it every 2-3 years with average use.  Like any appliance, if you take care of it you'll get better performance.  Presto suggests cleaning the gasket after every use, keeping it out of detergents and the dishwasher, and treating it with a light coat of vegetable or olive oil.  This will prevent oxidative degeneration.
How Much Do Replacement Seals Cost?
At most local hardware stores, less than $50.  If you replace the seals and emergency plug twice during the life of the canner, you might consider the extra investment in the All American which uses no gasket.
Can I Wash It In The Dishwasher?
The owners manual advises hand washing it and avoiding the dishwasher.
How Tall Is The Presto Pressure Canner?
Check your range hoods for clearance before you order this, especially if you have a built-in overhead microwave like we do.  With the lid closed, the gauge stands just over 16 inches.
What Does It Hold?
It's big!  You can easily straddle 2 burners on an average stove to cook 2 entire chickens or a 15 pound turkey.  It holds 7 quart jars for canning, or 18 pints,  or 2 dozen half pints.   A canning rack is included, get a 2nd if you want to double stack jars, pick up a standard canning kit on Amazon if you need tongs.
What Is The Maximum PSI?
20 psi
Can I Pressure Cook Chili In This?
Yes.
Can I Use The Presto For Water Bath Canning?
Yes,  It will hold 7 quart jars if you create a single layer and cover with water 2 inches deep above the jars.
Can I Make Moonshine In It?
Not recommended … next question.
It Says "23 Quarts" But Only Holds 7.
That's the volume of liquid it holds.  It holds 7 quart jars.
Can I Buy Replacement Regulators, Gaskets, Gauges, etc?
The 85772 Steam Gauge replaces the 82207 Gauge.  Call Presto at 1-800-877-0441 weekdays from 8:00 a.m. to 4:00 p.m. (Central Time).  If you'd like to download and read the Presto 01781 Owner's Manual, click here.
Dimensions:
The Presto stands nearly 16 inches tall, and is 17 inches across handle to handle.  Empty it's a touch over 10 pounds.
Consumer Ratings:
At Amazon, there are over 1700+ 5 star reviews!  Click here to see them.
Pros:
It's a big one!  You can cook a gigantic amount of food in it, making it economical and sensible especially for a large family.  For pressure canning its hard to beat 18-20 pint capacity!  If you're canning jams or preserves you can handle a full 2 dozen half pints at a time.  This is the #1 best-selling pressure cooker/canner on Amazon in its category with nearly two thousand customer reviews!
Cons:
The Presto has around 90 negative reviews, and I dug deep into them.  The biggest complaint was from people with flat glass stove tops that were unwilling to risk breaking them and didn't know from the description that Presto recommends not using the pressure cooker on that type of stove.  When we do canning at home we often use a counter top coil burner that plugs into the wall.  That would have taken care of over half of the disgruntled customers.  Care must be taken to look after the gasket so you get a good seal between the pot and the lid.  Pressure cooking and canning is light years safer than 50 years ago thanks to emergency plugs and proper gauges.  But it still must be respected and the directions followed closely.   Several people worried about Chinese aluminium.  If you're concerned about aluminium look to the stainless steel Fagor.  Most Presto buyers use it primarily for pressure canning, not cooking.  Due to the nature of canning, construction material is a non-issue.
Presto Overall Rating
We picked the Presto 01781 as one of our Top 3 Pressure Cooker/Canners based on the size, making it perfect for a large family, and the affordable price.  As a #1 Seller on Amazon, it's our top choice.  If you are just getting into pressure canning, or are a long-time passionate canner in the market for a new one, click here to see if Amazon has a pricing discount, free shipping or a current promotion!
All American 921 21.5 Quart Pressure Cooker/Canner
A prevalent theme on the pressure cooker review sites is the belief that "American-made" is the way to go.  If you want the quality of Wisconsin's best, then look no further than the All American 921!
This pressure canner is a beast!  Look at it … doesn't it make an impact with it's overall presence?  The heavy-duty hand cast aluminium has a silver satin finish.   There are several unique factors that make this unit truly special.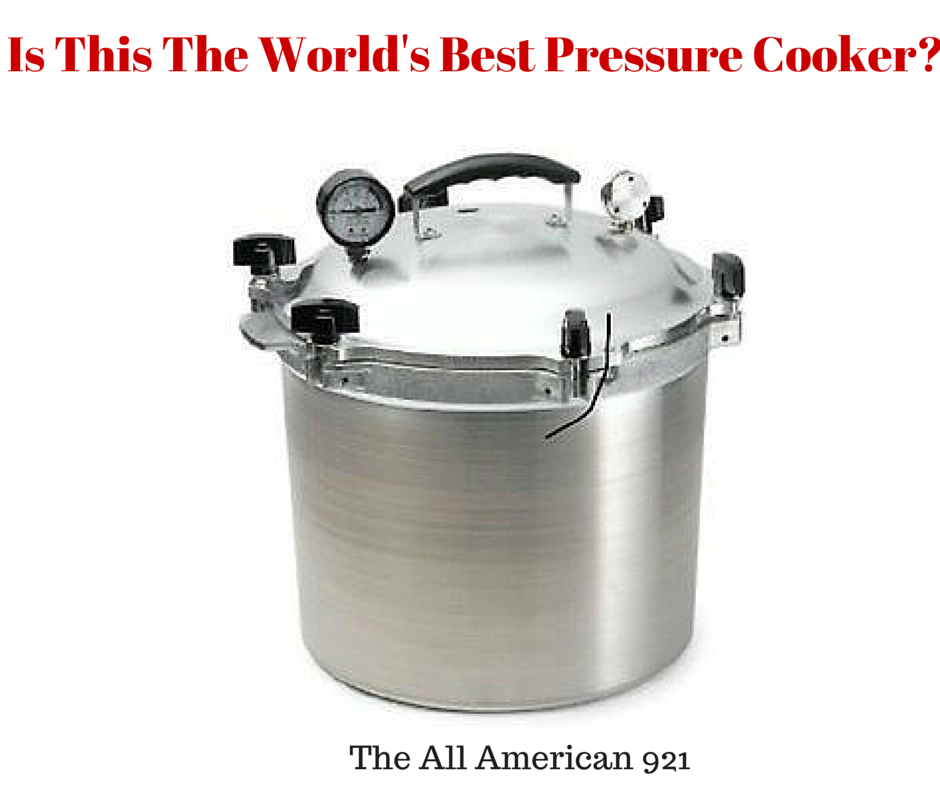 How Long Do The Gaskets Last?
The All American 921 has NO GASKETS!  No need to replace rubber or silicone rings every few years.  The metal to metal seal needs just a thin film of olive or coconut oil (or even Vaseline in a pinch).
Can I Use This On A Flat-glass or Ceramic Cooktop?
It's not recommended.  The weight of 20 quarts of liquid can create a problem that can crack and damage those types of stoves.  Of the 1000+ reviews on Amazon, you will find many owners that use it on their flat top stove anyhow without incident.  But the replacement cost and hassles of a broken stove top may cause you take a different direction.  You can set up a 1200 watt electric hotplate with the classic coil on your counter and be very satisfied.
Does A Canning Rack Come Included?
In fact, 2 racks come with it plus an Owners Manual.  The racks are designed to stack canning jars in the All American.
How Many Canning Jars Does It Hold?
It holds 19 pint jars, or 7 quart jars, or 23 half pint jars.  It holds 5 wide-mouth quart jars or 16 wide-mouth pint jars.  If you can find the 1/2 gallon jars, it will hold 4 of them.  Perfect for juices and sauces!
What Is The Gauge Metered For?
The gauge has an automatic overpressure release.  It's geared for 5 psi – 10 psi – 15 psi.
How Big Is The All American 921?
It's a hair under 16 inches tall, with a 12.25 inch inside diameter.  It weighs 20 pounds empty and assembled, and ships in the box at 24 pounds.
Can I Use Both Pint and Quart Jars For Canning At The Same Time?
Yes!  Your racks will come in very handy in this scenario.  You get 2 racks with this product.
Where Can I Get Replacement Parts?
The All American Customer Service Dept can be reached online, or by calling 920-682-8627.  You can download and view the Owners Manual by clicking here, it has a full parts list.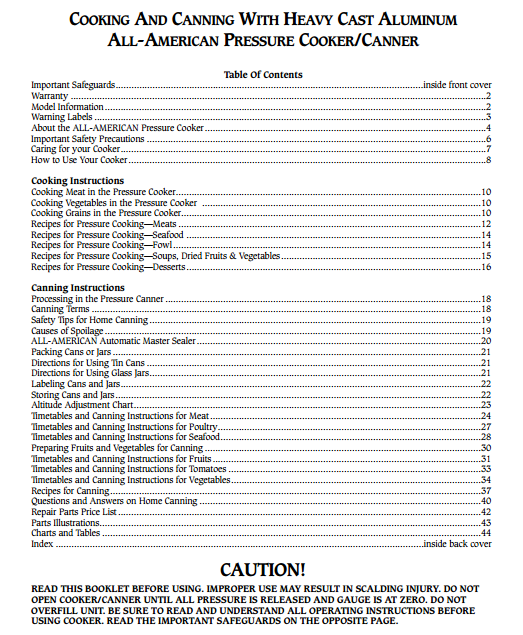 Can I Use It As A Hot Water Bath For Canning Fruit?
Absolutely.  Make sure you cover your jars with water deep enough to be 2 inches above them. Put your lid on, but leave off the Pressure Regulator Weight so as it heats up all the steam escapes and no pressure builds up.  In the recipe book are step-by-step instructions to make pepper jelly, peach jam, chutney and a bunch of other delicious preserves!
Can I Pressure Cook Beef Stew or Fish?
Yes.  The recipe book included in the box comes with detailed recipes to make both dishes.
Can I Make A Fruit Cake Or Pound Cake in The Pressure Cooker?
You'll need to pick up the cake pan accessory (around 10 bucks) if you want to make cakes.  There's a recipe in the manual to make a NINE POUND white fruit cake in under an hour!
Does The Pot Discolor Over Time?
Remember to wash your pressure canner by hand, not in the dishwasher or with harsh detergents.  Discoloration of aluminum inside is harmless. You can get rid of it by boiling one tablespoonful of vinegar or two level tablespoons of cream of tartar in a quart of water.   Good old fashioned elbow grease works as well, scrubbing it with a steel wool pad.
What About Safety?
The cooker has an overpressure emergency plug.  If the unit is properly maintained then you will probably never notice this plug ever.   It releases if the vent pipe gets blocked up or if too much pressure builds up.
Dimensions:
The All American 921 is 16 x 15 x 17 inches, 12.25 inches inner diameter, and weighs 20 lbs.  It holds 21.5 quarts of liquid.
Features:
Made in the USA.  Has a 41 quart big brother and a 15 quart little sister.  Has a satin silver finish.  Has an easy to read pressure gauge.  The handle on the top of the lid is Bakelite.  The cover stays secure with Bakelite wing nuts. The extra heavy, high-grade cast aluminum heats quickly, wears well, cleans easily, and will not rust.  The unique "metal to metal" sealing system means no more replacing cracked or worn gaskets.
Consumer Reviews
The All American 921 has an incredible 91% 5 star rating at Amazon, the highest we've seen.  The owner community is vibrant, leaving over 1100+ reviews and answering more than 120 questions.  To read the reviews click here.
Pros
Extremely safe.  Highest customer satisfaction.  American-made.  1 year no hassle warranty.  The ultimate canning device.  This is the pressure cooker your grandkids will fight over!
Cons
Premium price.  Large size and weight for a smaller cook.  Not recommended for a flat top stove.
All American 921 Overall Rating
We picked the All American as one of our Top 3 Pressure Cooker/Canners based on the build quality, unique no-gasket sealing system and highest satisfaction rating amongst current owners.   This pressure cooker is simply the top of the line and might be the last canner you own.  It frequently qualifies for discounts and free shipping at Amazon.
Fagor Futuro 10 Quart Pressure Cooker/Canner Review
This little gem might surprise you.  The Fagor family of pressure cookers from Spain is world famous, but you might not be familiar with this model.  It's not for everybody.  The serious canners will find this too small, and the cooks trying to feed a big family might find this the wrong size.  But it fills a need in the marketplace, especially because of its unique construction.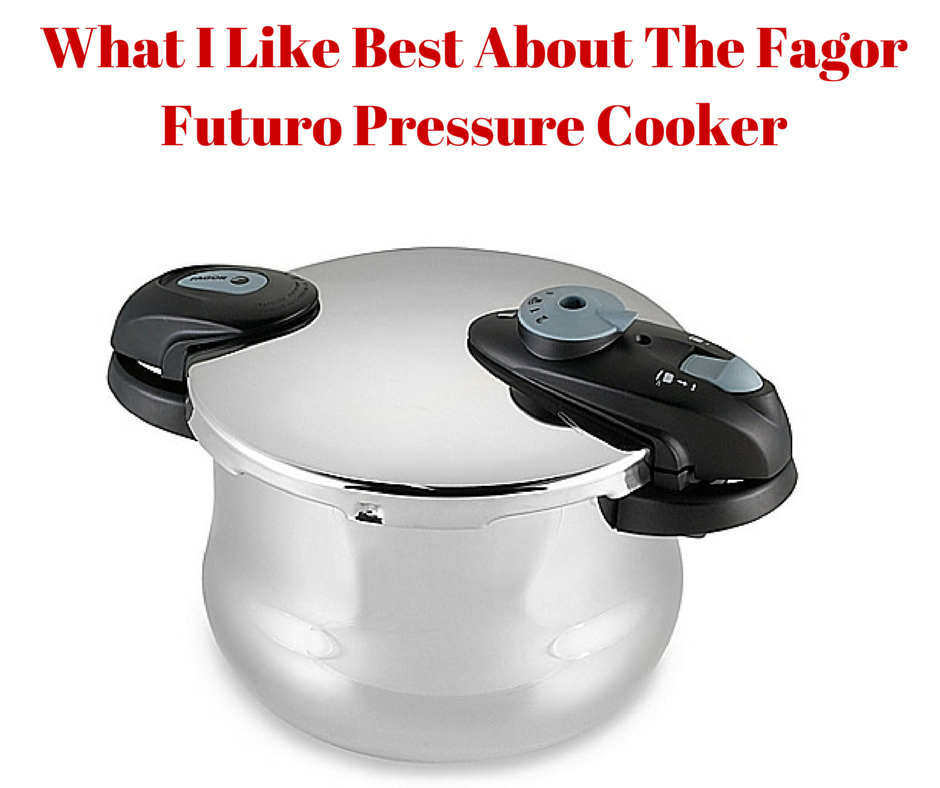 What's It Made Of?
The Fagor Futuro is 18/10 stainless steel.  For the cooks concerned about aluminum, this fills the need.
What Stoves Can I Use It On?
Because of its smaller footprint and capacity, it works on ALL stoves.  Gas, electric, ceramic, induction and of course, the infamous glasstop stove.
What Pressure Settings Does It Have?
Low – 8 psi.  High – 15 psi.
Where Is It Made?
Spain.
For Canning, How Many Jars Does It Hold?
4 quart jars at a time.
Is This A Good Pressure Cooker For Beginners?
Yes.  A high number of customer reviews on Amazon are from wedding gift recipients, as well as anniversary and birthday gifts.  It's simple to use and very safe.  This is our top pick to give as a Christmas gift for a cook.
Is There A Cooking Lid?
Yes.  There is a glass replacement lid to use the Fagor as a stew pot.
Can I Use 2 Burners With It?
Yes, you can cook an entire roast in about 40 minutes.
Can I Use It Instead Of My Calphalon Pot For Cooking?
Yes, remember to leave off the lid to prevent pressure build up.
Can I Order Replacement Parts and Accessories?
Yes.  You can call Fagor America at 1-800-207-0806 Monday to Friday 8:30 am to 5:30 pm est.  You can download and study the owners manual here.
Can I Use The It For Pressure Cooking With Oil?
Not recommended.  See manual for safety explanation.
Does The Futuro Have a Pressure Lock?
Yes. It has an automatic locking mechanism.  When you align the lid handle with the pot handle and slide the lid handle to the left the Fagor locks itself.
What Type of Sealing Gasket Does It Use?
The Fagor uses an advanced silicon gasket which lasts longer and is more durable than rubber.
Can I Clean It In The Dishwasher?
Because the Fagor Futuro is constructed from stainless steel it is dishwasher safe.
What Is The Risk of Botulism?
The CDC has a list of suggestions for home canning to ensure food safety.
Dimensions
The Fagor Futuro 10 Quart Pressure Cooker/Canner measures 10.6 inches by 9.5 x 14.2 inches and weighs 10.6 pounds.  It ships in the box around 12 pounds.
Accessories
It ships with a neat steamer basket that has a food grater built into it.  The included cookbook has a trouble-shooting guide, a dozen plus cooking charts and lots of recipes to get a novice up to speed and cooking quickly.
Pros
The smaller footprint allows nearly any sized cook to feel comfortable with it.  The compact handles makes the Futuro easier to store than the bigger models.  Being dishwasher safe is a big plus.
Cons
The number 1 complaint from customers on Amazon was losing pressure.  The solution was to make sure the handles were tightened with regular use.  The second biggest complaint was the big sticker that ships on the top of the unit.  It comes off with denatured alcohol.  The silicon gaskets last about 2 years with regular weekly use.
Fagor Futuro Overall Rating
We picked the Fagor Futuro as one of our Top 3 Pressure Cooker/Canners based on the compact size, stainless steel construction, and ease of use.  This pressure cooker is our best suggestion for beginners, RV owners, the cottage, new canners, and as a gift for a home cook.
Fagor 670040230 Best Stainless Steel Electric Pressure Cooker Review