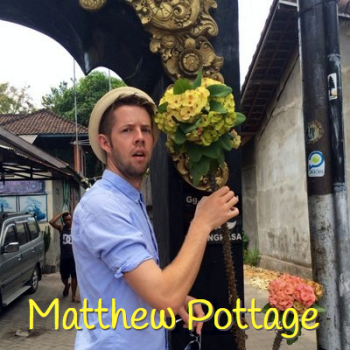 Matthew Pottage  is a truly tremendous plantsman!  He is a keen garden writer, and a self-diagnosed conifer addict.  Matthew is the Deputy Curator at Wisley Gardens, a 136-year old majestic 240 acre showpiece in London England.  He is a lover of retro crisps and 90's comedy.  Matthew asks the hard gardening questions, such as "Can you grow a Cheeseplant or Bird of Paradise in the heart of London?".
In This Episode You Will Discover:
the best gardening advice is – just have a go!
Matthew's fascination with Green Living Walls
the importance of developing your style and freedom when in your garden
garden design ideas that never go out of style
the thrill of expressing art at Wisley – a million guests a year!
why salvia is NEVER boring!
the perils of Yorkshire gardening – salty air, boulder clay and naked
Sponsors
Resources Mentioned
Thompson and Morgan – http://www.thompson-morgan.com/
Royal Horticultural Society Gardening Blogs – https://www.rhs.org.uk/education-learning/blogs/libraries
Wisely Gardens – a million garden lovers a year!
This is the book Matthew mentioned on the show! 

Our Guest's Links
Follow Matthew Pottage on Twitter – http://twitter.com/matthew_pottage
Watch the Podcast Interview Here:
Transcript:
Coming Soon!
See Also:
Listen To Matthew tell us about style and freedom in gardening Here:
Podcast: Play in new window | Download | Embed